SHE KILLED HIM FIRST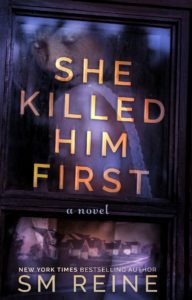 It's a smoky autumn morning when Kimber Clark gets the alert: her kindergartner's school is on lockdown. She's still drunk when she joins other parents outside the police tape, but not so drunk that she can't pick up details: Zack Linzy, a high schooler, opened fire in the school cafeteria, killing four people. But that's not possible. Zack Linzy is a freak, a boy who assaulted Kimber's daughter, and Kimber killed him with a shovel two days ago.

The police are looking for the school shooter in the wrong place, and the real killer might get away with it. Kimber can't tell the police they've got the wrong suspect without showing them where she buried the body. No—she has to solve a school shooting, absolve her daughter's abuser, and make sure the real killer comes to justice. All without getting caught for the murder she committed.
About Sara
Sara Marie Reine is an author living near Reno, Nevada. She is married more happily than her books would suggest, with two human offspring, a cadre of animal babies, and an excessive number of swords.
Also known as New York Times bestselling author SM Reine, Sara has written over a hundred novels and sold more than one million books.
Please direct professional requests to Jessica Alvarez at BookEnds Literary Agency.

A wildfire rages in the foothills outside Evangeline Everhardt's hometown, and the power utility has accused Eve's brother of starting it. Aaron Ashe seems like the type: a long-time drug addict, a disgruntled former employee, and recently killed resisting arrest by a sheriff's deputy. He's not even buried before SE&G is pointing the finger.
When Eve's husband, Sergeant Deputy Hank Everhardt, won't fight to clear Aaron's name, Eve takes the investigation into her own hands. Eve hunts for the only witness to Aaron's death only to find the girl missing. Someone is eager to keep Aaron's case quiet...and Eve has to figure out who before wildfires turn the evidence to ashes.
Coming September 30th 2022.
Teenager Zack Linzy is wanted for murdering a teacher at school, but Kimber Clark knows he's innocent: she killed and buried him last week. Now she must prove his innocence before the police searching for him find the woman who murdered him instead.
Available now - Click to buy

This book contains graphic depictions of domestic violence, child abuse, sexual assault, and substance abuse. Some readers may find the content disturbing. You can read a full synopsis of the book (with SPOILERS) if you would benefit from knowing how these elements will be used. -author
Sign up for NEW RELEASE EMAIL ALERTS.
I'll email you whenever I publish a new book. Don't worry - you can unsubscribe whenever you like, and I never spam. More details if you click the button.